Occupant Protection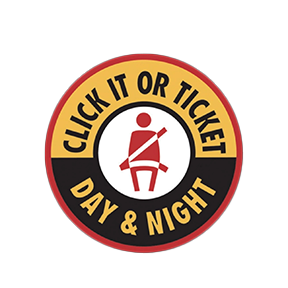 Louisiana law states that all drivers and passengers, regardless of which seat they occupy in a vehicle, must wear a seat belt or be properly restrained in a child safety seat that is properly installed. The fine for not being properly restrained is $50.
Besides being the law in Louisiana, wearing your seat belt is the single most important thing a driver or passenger can do to protect themselves in the event of a crash. The LHSC supports national programs such as "Click It or Ticket" that raise awareness of the need for proper restraint usage.
In 2022, observational surveys showed that 86.1% of all Louisiana drivers and passengers were wearing their seat belts. While this record usage rate is good news for Louisiana, there is much work to be done in moving toward 100% compliance.
UPCOMING ENFORCEMENT WAVES
November 18–25, 2023 (Click It or Ticket)
April 20–27, 2024 (Buckle Up in Your Truck)
May 20 – June 2, 2024 (Click It or Ticket)
The National Highway Traffic Safety Administration (NHTSA), through Traffic Safety Marketing, has produced occupant protection marketing materials, earned media tools, and marketing ideas that you can distribute to meet your local needs and objectives while collaborating with other organizations and communities to promote and enforce occupant protection usage. For social-norming marketing materials, please click here. (Please select, tailor, and distribute this information in a way that best fits the needs of your local community and objectives.)
Occupant Protection Facebook Page – Buckle Up Louisiana: Comprehensive resource for occupant protection events, education, and assistance within our state. At no time should a parent or guardian pay a fee or make a donation for occupant protection/child safety seat education. Please feel free to "like" the page and share it with others.
NIGHTTIME ENFORCEMENT RESOURCES:
Survey Reports
2022 Louisiana Nighttime Seat Belt Observation Survey Results
2019 Louisiana Nighttime Seat Belt Observation Survey Results
2018 Louisiana Nighttime Seat Belt Observation Survey Results
2017 Louisiana Nighttime Seat Belt Observation Survey Results
2015 Louisiana Nighttime Seat Belt Observation Survey Results
2013 Louisiana Nighttime Seat Belt Observation Survey Results
Nighttime Belt Enforcement Evaluation of Three Communities
DAYTIME OBSERVATIONAL SURVEY REPORTS:
2022 Louisiana Seat Belt Use Observation Survey
2021 Louisiana Seat Belt Use Observation Survey
2019 Louisiana Seat Belt Use Observation Survey

2018 Louisiana Seat Belt Use Observation Survey
2017 Louisiana Seat Belt Use Observation Survey
2016 Louisiana Seat Belt and Motorcycle Helmet Use Observation Survey
2015 Louisiana Seat Belt and Motorcycle Helmet Use Observation Survey
2014 Louisiana Seat Belt and Motorcycle Helmet Use Observation Survey
2013 Louisiana Seat Belt and Motorcycle Helmet Use Observation Survey
IACP Roll-Call Training for Officer Seatbelt Use (Video)